Party Ideas
Just a few ideas to add some excitement to any
party or event venue. You will find a host of ideas on
Google images - just search 'balloon party' or similar.


© Balloons Plus Coffs Harbour 2022
Each photo has a reference number
that is useful in discussing your needs.


A party is not a party without balloons -
no matter how you get them there.
To quote Winnie the Pooh on balloons:
" I know I don't need one, but I would like one very,
very much !"
A.A.Milne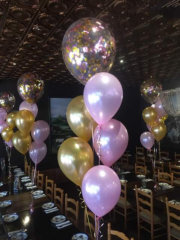 X3 Ceiling Balloons (requires Helium)
X4 Floor Balloons (air inflated - You can Hire a 240v pump
from us?)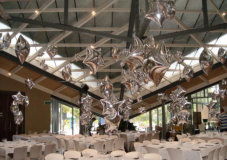 X5 'Bedroom Surprise' -
Champagne on the pillow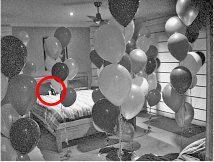 X6 Decide a THEME -
A Night of Stars
X7 (Left) A few extra $ spent on
quality balloons will just transform
your venue. Table Sprays come
ready to place, just drop them in
position.

Helium balloons have a limited flying life. You cannot
prepare Helium filled balloons in advance, unless treated
with Hi-float sealer (talk to us!)

Air filled balloons can be prepared in advance if you store
them overnight in black plastic garbage bags (they will hold
their sheen).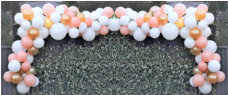 X8 (Left) Organic arches or
features are air filled and
can be prepared in
advance. They are often
prepared off-site and can
be delivered and installed
fresh on the day of the
event.
Colours and design can be
based around your central
theme idea.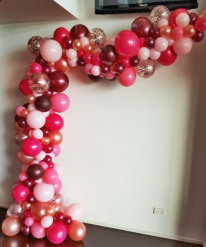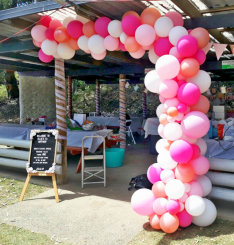 X9 Simple Bunch of balloons
Floor Spray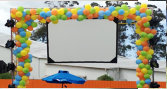 Below: X10 L, X11Cntr,
X12 R.
Organic design can be
adapted to almost any
theme, colour scheme or
need.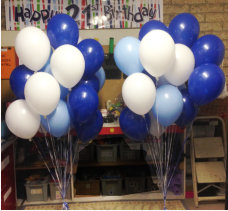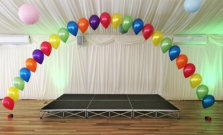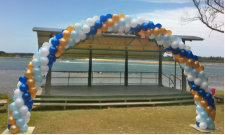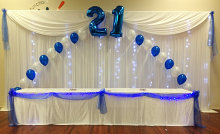 Consider Arch-like feature structures to emphasise a segment
of your event:
X14 Feature Arch - air filled.
X15 String-of-Pearls Arch
Helium filled.
X16 Floor Sprays
Helium filled.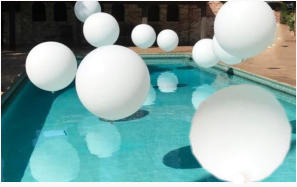 X17 Pool Balloons in mixed sizes - Helium filled.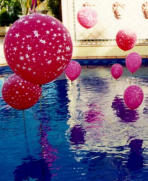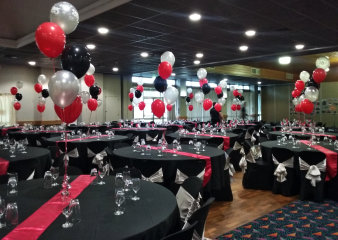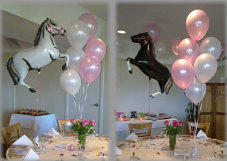 X18 Table Sprays - Helium filled.
X19 Pony foil shapes
set party theme.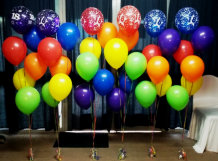 X20 '18' Prints set
party theme.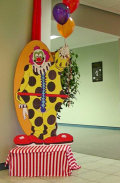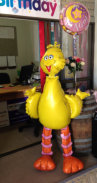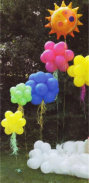 X25 Big Bird
Airwalker foil
Entry welcomes …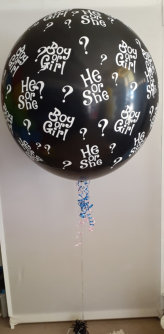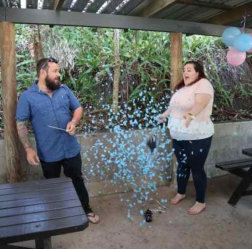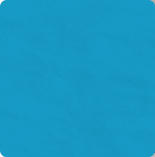 Gender Reveal
Party climax
A great moment
immortalised in
time - it's a BOY!
Congrats Dee &
Partner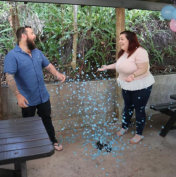 Gender Reveal Balloons
are fun for all involved
Our gender reveal balloons are very
popular! You can choose either a
60cm size or the Huge 90cm size
(shown left). We insert coloured
confetti inside (either blue or pink)
and then fill the balloon with helium
and tie it onto a weight. All you have
to do is pop the balloon and the
gender will be revealed.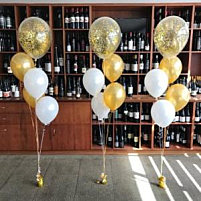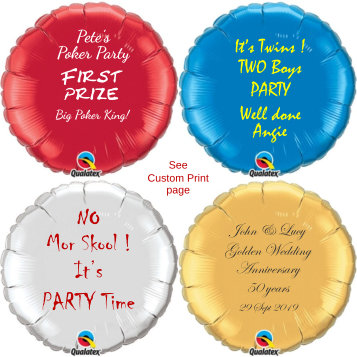 X26 Confetti Balloon Floor
Spray makes a subtle
Walkway Barrier
X27 Personalise the party with custom Theme Disks
Vinyl lettering made to order - stars and other shapes
available.